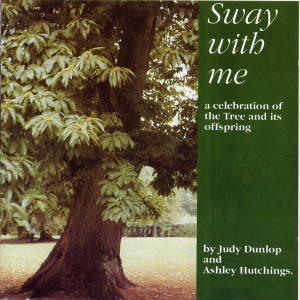 As you entered the site, the voices you heard were those of Judy Dunlop and Ashley Hutchings explaining to us just how important trees are to the earth and to all living things, including us humans, who dwell upon this planet.This site we hope will also aid in helping you fully understand this very important point
There's history here, there's mythology here, there is history and geography, and of course there is the music. We'll be providing several tracks from the album, including Thanks Trees, which you've already heard, and another recitation by Judy Dunlop, Mannikins, which is taken from the writings of the theosophical teacher, mystic and gnostic seer, Geoffrey Hodson (1886-1983), more of whom we will find out about a little later on.
Woodworking is an area we'll also be looking at, for this, a most ancient of crafts, is inexorably entwined with the tree, for if we use the tree wisely, we can create beauty, as is illustrated in the song Turn The Lathe Gently, in which the hero of the song creates, from the wood of the ash, a fiddle which, its turn, creates beautiful music. So many paths to follow, all created by Ashley Hutchings, for he does, with this album, invite us to look more closely at our surroundings, at our nature in relationship with the world around us. Ashley continues this theme with his album,
Human Nature
, which in turn features some of the same musicians and singers as are to be found on the superb
Sway With Me.